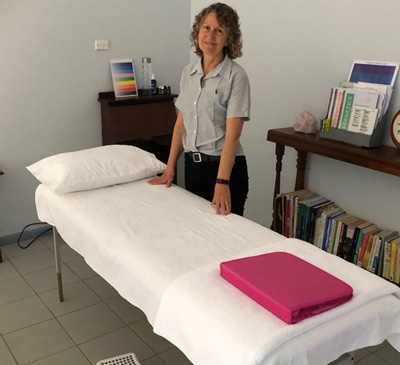 Welcome to Outback Wellness
I used to think I was living in good health until Dr Chau turned it into amazing! I'm still so full of gratitude to him for the journey with alternate therapies that took me from debilitating headaches to not even an occasional, mild, one. Instead, I was pain free, flexible and full of energy. That's the kind of change I want for my clients!
Later, after experiencing many modalities and learning to trust my body, I found myself living in a small town, unable to access wellness care for my family. I decided to train in Kinergetics, (Kinesiology and Energy Healing), founded by Philip Rafferty. The best things that benefitted me in all the other modalities I'd tried, came together in Kinergetics. I am so glad to have found it.
I have been a primary school teacher for many years and happily combined my teaching with raising our children  which has been my greatest joy. I have worked in many schools both on the coast and far, south-west of Queensland, and in the far, north-west of New South Wales. I have taught our younger children via Distance Education and Home Schooling, which I also loved. With my husband, we have lived in many and varied locations including a time of adventure as an opal mining family, on our opal mine in Queensland. Being together as a family has meant the world to me.
As a teacher, there are often situations we would love to be able to change. I know that what I do in clinic can help me with this dream and benefit young and old alike. I look forward to helping children to avoid the stigma of labels and the difficulties of learning, including emotional challenges. Pain, stress and learning issues can take their toll on families. I hope to reduce all that and more.
It all starts here at Outback Wellness Clinic.